Millions of people live less than a mile from an abandoned coal mine. We can clean up these unsafe sites while creating meaningful jobs for laid off miners and an economic boost for local communities.
The RECLAIM Act (H.R. 2156) is bipartisan legislation to create jobs and revitalize communities by investing $1 billion over five years to reclaim abandoned mine lands and polluted waterways. The legislation does not cost taxpayers a dime, but simply releases funds already collected for the purpose of cleaning up old mines.
On July 1, 2020, the U.S. House passed H.R. 2 that included the language of H.R. 2156. This larger bill now awaits action by the Senate.
These reclamation projects will create 4,600 good new jobs in U.S. mining communities, jobs that fit the skills and work experiences of many laid-off miners. The bill prioritizes projects that return unsafe mine lands and waterways to productive use, including agriculture (including aquaponics, greenhouses, and orchards), solar energy or wind production, recreation and adventure tourism, community services, affordable housing, and local businesses.
Eastern and Western Kentucky would receive about $100 million over five years under the RECLAIM Act. To put that in perspective, Kentucky has a backlog of 1,089 sites that qualify for support from the Abandoned Mine Lands (AML) fund. The federal Office of Surface Mining estimates completing all the remaining AML projects in Kentucky would require more than $400 million.
The RECLAIM Act, H.R. 2156, has 65 cosponsors, including Kentucky Representatives Hal Rogers, John Yarmuth and Brett Guthrie. It was passed by the House Natural Resources Committee in the spring of 2019 and now needs action on the House Floor before moving to the Senate.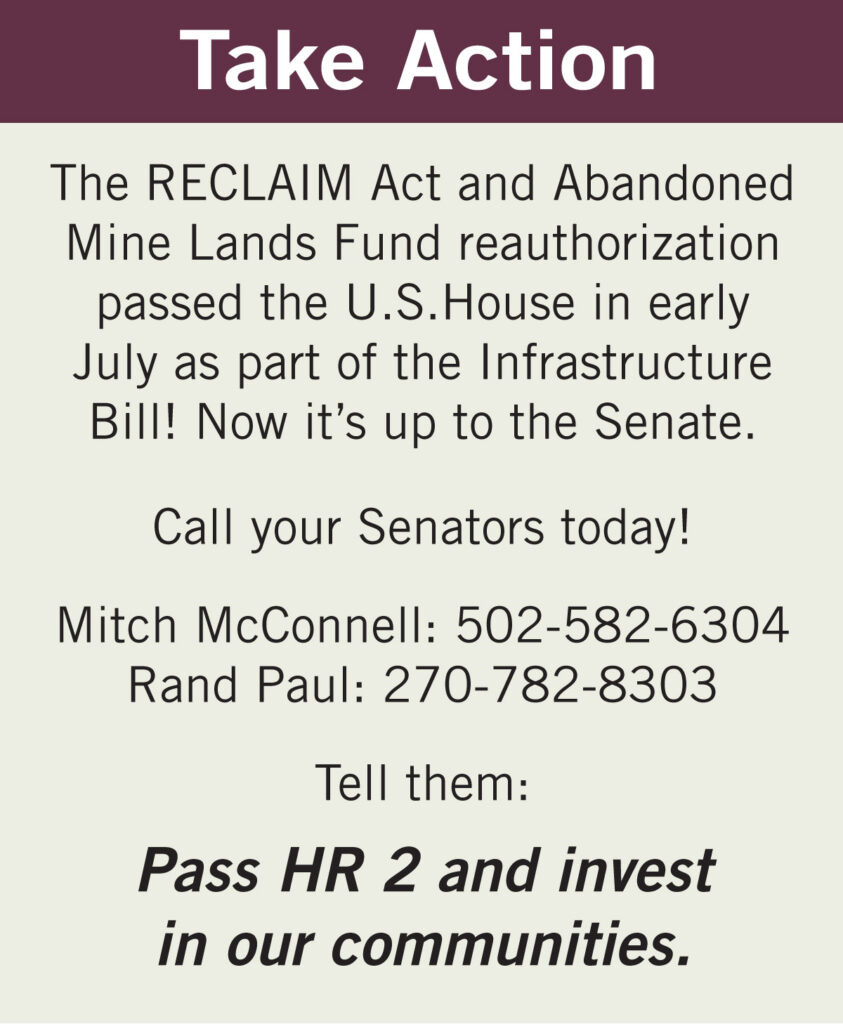 Abandoned Mine Land Program reauthorization
By the time Congress passed federal laws requiring coal companies to reclaim strip mined lands and clean up polluted waterways, a lot of damage was already done. That's why the 1977 Surface Mining Control and Reclamation Act created the Abandoned Mine Land (AML) Reclamation Fund, paid for with a fee on each ton of mined coal. The AML fund is used to clean up abandoned coal mines and polluted waterways that threaten public health and safety.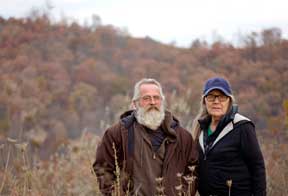 The AML fund has done a lot of good over the years: investing billions of dollars, creating thousands of good jobs and restoring more than 800,000 acres of damaged mine lands along with countless miles of rivers and streams. But much more needs to be done.
To reclaim all remaining abandoned coal mines in the U.S. would require an additional investment of at least $10.6 billion. It is estimated that Kentucky alone still needs nearly half a billion dollars to clean up abandoned mines. A little more than half of those projects are in the western part of our state, with the rest in eastern Kentucky.
However, funding for the Abandoned Mine Land Reclamation Program will come to an end in 2021 unless Congress acts.
The House did act on July 1, 2020 with the passage of H.R. 2, a broad infrastructure bill that included language reauthorizing the AML program. It is now up to the Senate to act.
As Kentuckians, we call on Congress to reauthorize the Abandoned Mine Land Reclamation Program for another 15 years by passing H.R. 4248. Congress must make sure the coal industry does its part to fix what's they broke in our communities. Reclaiming abandoned mines creates good local jobs, improves health and safety, and is necessary for new, sustainable industries to thrive. Yet so far Rep. John Yarmuth is the only Kentucky House member to cosponsor this bill.
Reauthorizing the AML program for another 15 years at its current funding level is the very least Congress should do. An analysis by Appalachian Voices makes it clear that the fee on mined coal actually needs to be doubled, at a minimum, in order to take care of most remaining AML sites by 2050.